Telehandler For Hire Australia
Lifting huge items over challenging terrain is made possible by our wide selection of dependable and well-maintained telehandlers available for hire.You can be sure that Earle's Transport has the appropriate telehandlers with attachments available to suit your needs, whether you need to hoist concrete blocks on a building site or move bales around a farm. You can choose a telehandler for hire for a day, a week, a month, or even per project, and you'll get a reasonable rental fee with prompt delivery anywhere in Adelaide.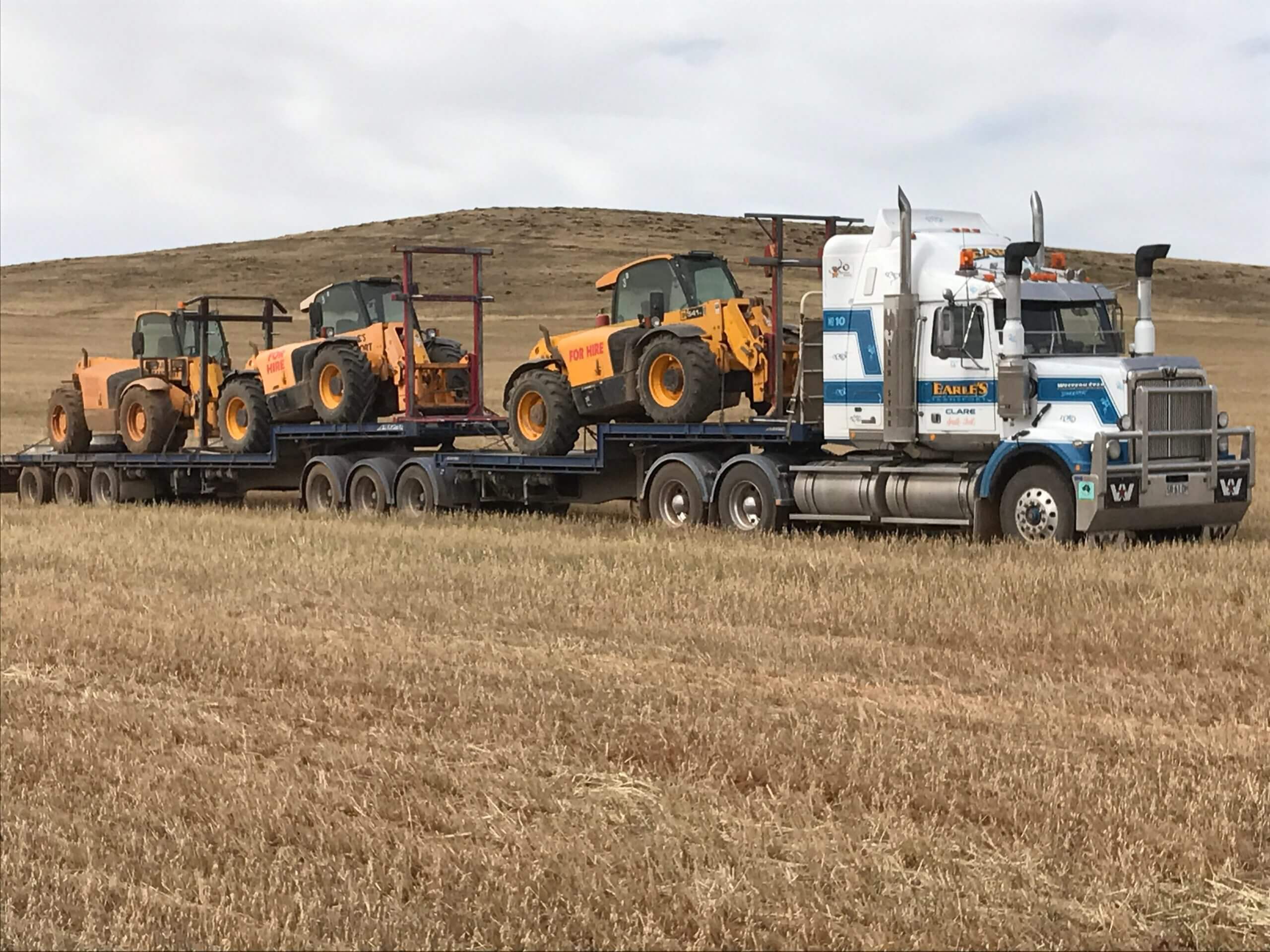 Flexible Telehandler Hire from Earle's Transport
Earle's provides you with all the lifting needs in Australia with the added benefit of great customer service at competitive prices.
For the harshest job sites, we are quite suitable. In addition to providing a variety of well-liked attachments to meet the majority of lifting needs, we also sell versions that are both small and high-lift. We are confident that we have a telehandler that will meet your specific requirements.
Earle's Transport Makes Forklift Hire Easy in Adelaide.
Compact Telehandler Rentals
On any job site, our selection of compact telehandlers for hire offers exceptional performance and adaptability. These multi-tasking devices offer excellent maneuverability in the smallest workspaces. Our small telehandler models are ideal for a variety of lifting tasks where space is limited.
High Lift Telehandler Rentals
For lifting loads higher, choose from our selection of high-lift telehandlers available for rental. These models have a maximum lift height of 16.70 meters and a maximum lift capacity of 4 tonnes. Utilising frontal stabilisers, they may also maintain outstanding load capacities at height. These high-lift telehandlers are perfect for the majority of lifting operations in sectors like construction and agriculture because of their exceptional rough terrain capabilities.
You've come to the right place if you need a reliable and versatile telehandler for your construction, industrial, or agricultural projects. Earles Transport is your go-to destination for high-quality telehandlers available for hire. With our extensive fleet and commitment to customer satisfaction, we are confident that we can meet all your telehandler rental needs.
Why choose Earles Transport for forklift hire in Adelaide?
Wide range of telehandlers: At Earles Transport, we understand that different projects require different types of telehandlers. That's why we offer diverse telehandlers to cater to your specific requirements. We have the perfect equipment whether you need a compact telehandler for navigating tight spaces or a heavy-duty telehandler for lifting heavy loads. Our fleet includes various models with different lifting capacities, reach heights, and attachments, ensuring you can find the ideal telehandler for your project.
Quality and reliability: We take pride in providing top-notch telehandlers built to perform. Our telehandlers are sourced from reputable manufacturers known for their quality and reliability. We regularly maintain and inspect our equipment to ensure that it is in optimal working condition. When you rent a telehandler from us, you can trust that you're getting a well-maintained machine that will deliver excellent performance on your job site.
Experienced staff: Our team of experienced professionals is here to assist you throughout the rental process. From understanding your project requirements to helping you choose the right telehandler and providing guidance on its operation, our knowledgeable staff is dedicated to ensuring a seamless rental experience. We are always ready to answer your questions, address your concerns, and provide expert advice to help you maximise our telehandlers.
Flexible rental options: At Earles Transport, we understand that every project has unique demands. That's why we offer flexible rental options to accommodate your specific needs. Whether you require a telehandler for a day, a week, or an extended period, we can tailor our rental terms to fit your schedule. We aim to provide you with the flexibility and convenience you need to complete your project on time and within budget.
Competitive pricing: Renting a telehandler should be affordable without compromising quality. This is why we offer competitive pricing on all our telehandler rentals. We strive to provide cost-effective solutions to our customers while maintaining the highest equipment performance and customer service standards. With XYZ Telehandler Rentals, you can enjoy the benefits of a reliable telehandler at a price that fits your budget.
Safety first: Safety is our top priority at Earles Transport. We ensure that our telehandlers meet all safety regulations and standards. Our staff will provide you with the necessary training and guidance to operate the equipment safely. We also offer optional safety accessories and attachments to enhance job site safety. With our commitment to safety, you can have peace of mind knowing that you're renting a telehandler from a trusted provider.
Prompt delivery and pickup: We understand the importance of time in your project schedule for forklift hire. Our logistics team ensures that your rented telehandler is delivered to your job site on time, allowing you to start your project without any delays. When your rental period is complete, we will promptly pick up the telehandler, minimising any disruption to your workflow.
Exceptional customer service: At Earles Transport, we are committed to providing exceptional customer service from the moment you contact us until the completion of your rental. Our friendly and professional staff is here to assist you every step of the way. We listen to your needs, provide personalised recommendations, and strive to exceed your expectations. We value your satisfaction and are dedicated to building long-term customer relationships
Regarding telehandler rentals, we stand out for our wide range of equipment, quality and reliability, experienced staff, flexible rental options, competitive pricing, commitment to safety, prompt delivery and pickup, and exceptional customer service. We are ready to meet your telehandler rental needs and contribute to the success of your project. Contact us today to discuss your requirements and experience working with a trusted telehandler rental provider.