With decades of farming experience, Earle's is a market leader in hay freight services in Australia. We take great satisfaction in our expertise in the delivery, supply, and transportation of hay and straw.
Our fleet includes a wide variety of well-kept vehicles that can deliver hay and straw quickly and safely. Whatever your demands for transporting hay and straw might be, with the necessary equipment and trailers for hauling farm equipment, our team is prepared to handle the transportation of various farming machinery throughout Australia. Our incredibly capable, seasoned, and accommodating team is prepared to organise everything for you and will keep your cargo secure during transit.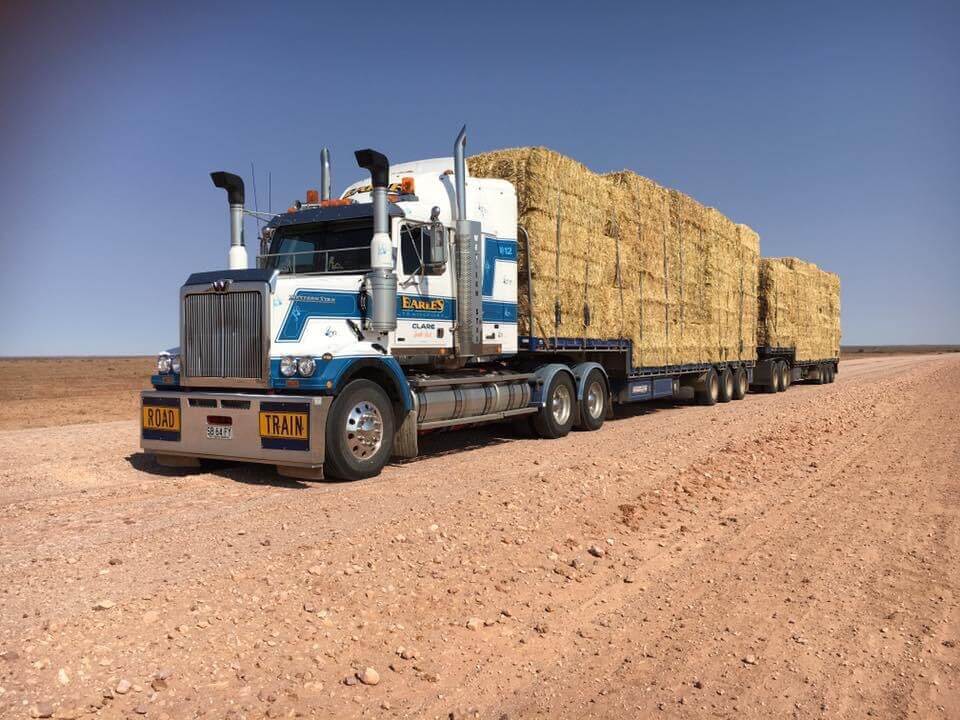 We have access to Adelaide's outlying locations, and farmers. Moreover, agriculture suppliers all around the nation rely on us to deliver their valuable produce in top condition every time. For timely and dependable service, you can trust Earle's Transport with all the logistical aspects.
Earle's Transport can acquire hay for its customers and provides a year-round delivery service for straw and hay. As a result, Earle's Transport can purchase all varieties of hay and straw from primary growers at reasonable prices, which we then pass along to you. We can obtain a wide variety of grass, legumes, and other livestock feed and have it delivered right to your door. No order is too big or too small. You can get additional details about the supply and transport of hay and straw to your property from our helpful crew at any time.
Hay & Straw Transport Specialists
You may arrange for your hay and straw delivery with the help of Earle's Transport quite easily. Visit our Homepage to learn more about the many straw and hay delivery and supply services offered by Earle's!
At Earles Transport, we understand the critical role that freight transport plays in today's fast-paced business environment. We specialise in providing seamless logistics services to businesses of all sizes, helping them stay competitive and meet their customers' demands.
Reliable and Timely Delivery: We pride ourselves on our commitment to delivering your goods on time, every time. With our extensive network and experienced team, we ensure that your freight reaches its destination efficiently and without delay.
Customised Solutions: We understand that every business has unique transportation needs. That's why we offer tailored solutions to meet your specific requirements. Whether you need total truckload shipping, less-than-truckload (LTL) services, or specialised handling for fragile or hazardous goods, we've got you covered.
Wide Range of Transport Options: We offer a comprehensive range of transport modes to suit your needs. From road transport for local and regional deliveries to rail, air, and sea transport for long-distance and international shipments, we have the expertise and resources to handle it all.
Cutting-Edge Technology: We stay at the forefront of technological advancements in the freight transport industry. Our state-of-the-art tracking systems provide real-time visibility of your cargo, ensuring you have complete control and peace of mind throughout the transportation process.
Expert Team: Our logistics hay transport specialists are dedicated to providing exceptional service. With their in-depth knowledge and industry expertise, they will guide you through the entire transportation process, offering valuable insights and recommendations to optimise your logistics operations.
Safety and Compliance: We prioritise the safety and security of your goods. Our drivers and carriers undergo rigorous training and have advanced safety features. We also ensure compliance with all relevant regulations and industry standards to protect your cargo and minimise risks.
Competitive Pricing: We understand the importance of cost-effectiveness in freight transport. Our transparent pricing structure ensures you receive competitive rates without compromising quality or service.
Excellent Customer Support: We prioritise forming enduring connections with our customers. Our committed customer support team is ready to assist you at every step and will immediately address any enquiries or issues. We take great pleasure in providing outstanding customer service that exceeds your expectations.
Sustainability and Environmental Responsibility
At Earles Transport, we are committed to promoting sustainability and reducing our environmental footprint. We recognise the importance of adopting eco-friendly practices in the freight transport industry to contribute to a greener future. Here's how we prioritise sustainability:
Green Fleet: We have invested in a modern fleet of fuel-efficient vehicles that adhere to the latest emission standards. Using advanced technologies and alternative fuels, we strive to minimise carbon emissions and reduce air pollution.
Route Optimisation: Our logistics experts employ cutting-edge route optimisation software to plan the most efficient and eco-friendly delivery routes. We reduce fuel consumption and greenhouse gas emissions by minimising mileage and idle time.
Collaboration for Consolidation: We actively encourage and facilitate collaboration among our clients to consolidate shipments. As fewer vehicles are on the road, fuel usage and emissions are reduced due to consolidation.
Packaging and Material Optimization: We work closely with our clients to optimise packaging and material choices, promoting sustainable practices. By using recyclable materials and reducing unnecessary packaging, we contribute to waste reduction and resource conservation.
Continuous Improvement: We are committed to continuously evaluating and improving our sustainability practices. Through regular monitoring, data analysis, and collaboration with industry partners, we identify areas for enhancement and implement innovative solutions.
Environmental Compliance: We strictly adhere to all environmental regulations and standards. Our procedures and business practises adhere to national, regional, and international environmental regulations while minimising the adverse effects on ecosystems and natural resources.
Join us in our commitment to a greener future by choosing Earles Transport as your sustainable logistics partner. Together, we can make a positive impact on the environment while efficiently delivering your goods.