High Capacity Hauling Operation
Our Team has extensive knowledge in the agricultural and logistics industries, having worked for the largest haulier of wine grapes in Australia.
The team at Earle's Hauling oversees a fleet of several Australia Wide (Road Train, B/Double, Semi-Trailer) trailers that are used to transport a variety of agricultural products, including grapes for wine, walnuts, almonds, olives, citrus, tomatoes, onions, and carrots.
Flexible Hauling Solutions Drive Harvest Efficiency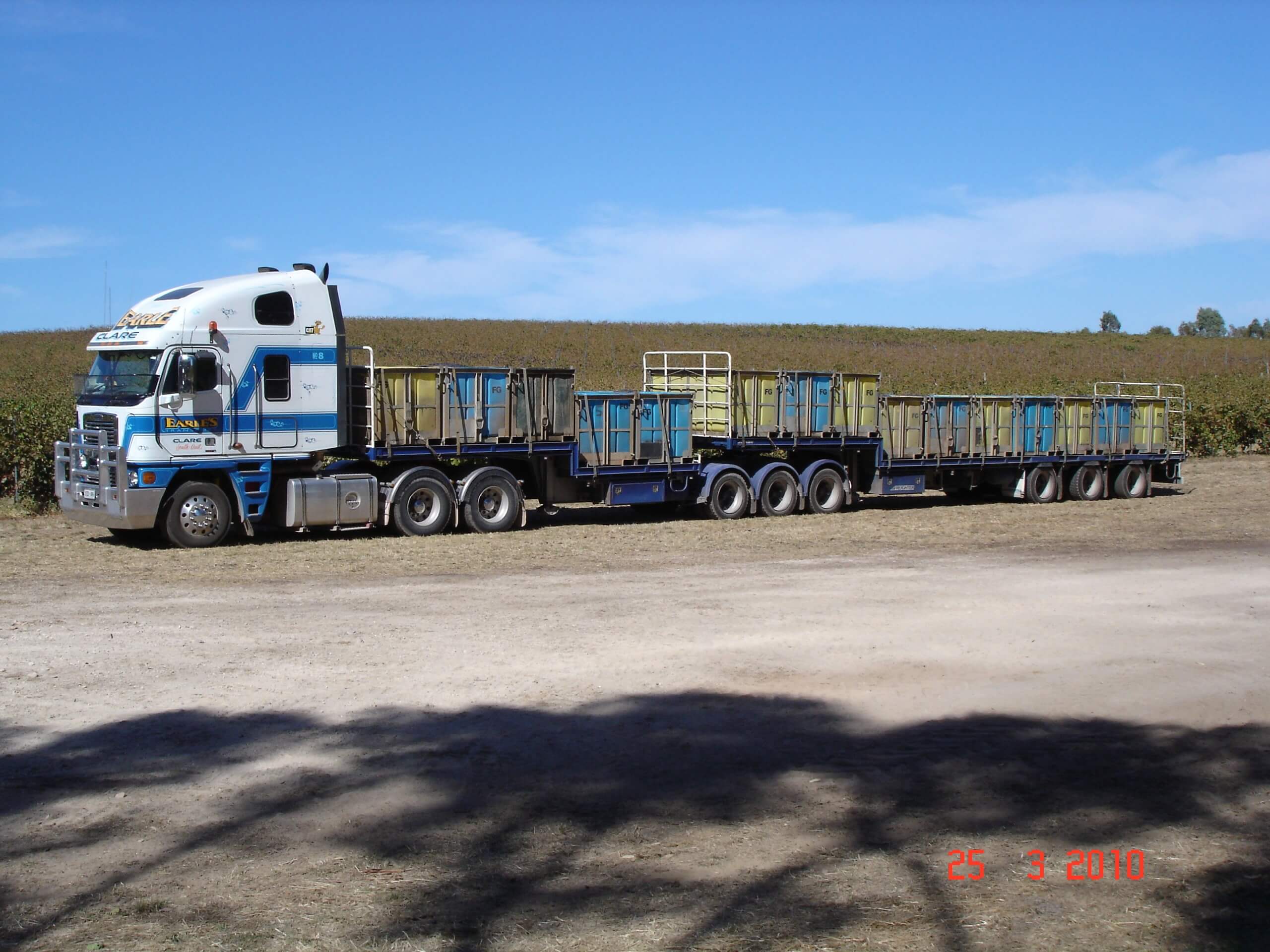 Earle's Transport assists in grape cartage to far-flung vendors and buyers, allowing you to make the most of your harvest and increase revenue. Produce remains fresh when it arrives at its destination ahead of schedule, allowing you to reap the benefits of a good crop.
CONTACT US FOR CUSTOMISED HAULING SOLUTIONS
Hauling Experience with Passion
For growers, farmers, winemakers, and processors of all sizes, we offer rapid service thanks to our operational knowledge and agile planning.
The team manages operations 24/7 in Adelaide
Elevate Industry Standards with Earle's Transport
To achieve agricultural transport standards, Earle's makes investments in innovative technologies and preventative maintenance. We provide:
Real-time tracking and visibility made possible by GPS technology
Our extensive carrier network complies with safety regulations to the letter.
We are a leading provider of specialised transportation solutions for the grape industry. With our expertise and dedication to customer satisfaction, we offer reliable and efficient cartage services explicitly tailored to meet grape growers, wineries, and vineyards' unique needs. Whether you need to transport grapes from the vineyard to the winery or distribute your finished wine to retailers, our team ensures a seamless and timely delivery process.
Why choose our Grape Cartage Services?
Expertise and Experience: With years of experience in the grape industry, we understand the intricate logistics of transporting grapes and wine. Our team of professionals has the knowledge and expertise to handle all aspects of cartage, ensuring your precious cargo is handled with the utmost care and attention.
State-of-the-Art Equipment: Investing in top-of-the-line equipment is essential for delivering exceptional cartage services. Our fleet consists of specialised vehicles equipped with temperature-controlled systems to preserve the quality and freshness of your grapes or wine during transportation. We also have the tools and equipment to handle loading and unloading efficiently and precisely.
Reliable and Timely Delivery Services: We recognise the importance of prompt and dependable deliveries in the grape industry. Whether it's a tight harvest schedule or a time-sensitive wine distribution, we prioritise delivering your products on time, every time. Our team works closely with you to create a customised delivery plan that aligns with your requirements, ensuring a smooth and reliable transport process.
Safety and Quality Assurance: We adhere to stringent safety protocols and quality standards to guarantee the integrity of your cargo. Our drivers are trained professionals who prioritise safety throughout the journey. Additionally, we conduct regular maintenance on our vehicles to ensure they are in optimal condition, minimising the risk of delays or disruptions due to mechanical issues.
Flexible Solutions: We understand that each customer's needs are unique. That's why we offer flexible cartage solutions that can be tailored to your specific requirements. Whether you need one-time transportation or ongoing logistical support, we can create a plan that suits your business objectives and budget.
Grape Transportation: We provide reliable and efficient transportation services for freshly harvested grapes. Our team handles all aspects of the process, from loading at the vineyard to unloading at the winery, ensuring the grapes reach their destination in pristine condition.
Wine Distribution: We specialise in transporting bottled wine from wineries to retail locations, restaurants, and distributors. With our expertise in handling fragile and valuable cargo, you can trust us to deliver your wine safely and on time, allowing you to focus on growing your business.
Logistics Consulting: Our team of experts is available to provide logistics consulting services to optimise your supply chain and streamline your cartage operations. We can assess your current processes, identify areas for improvement, and recommend customised solutions to enhance efficiency and cost-effectiveness.
If you need professional cartage services for your grape-related transportation needs, we are here to help. Contact our friendly team today to discuss your requirements, get a quote, or learn more about how we can support your business. We look forward to partnering with you and delivering exceptional cartage services tailored to your needs