Adelaide machinery transportation services
Moving heavy agricultural equipment can be challenging and even dangerous, which is why you need the assistance of a reputable machinery transport firm. We can help you relocate any type of farm equipment you need to move, including tractors, graders, bobcats, excavators, and other earth-moving machinery.
Earle's Transport offers towing services with the necessary tools for transporting big machinery safely, as well as friendly staff who will follow the right loading and fastening methods. You can also find temporary storage services on our website by searching for the closest service provider.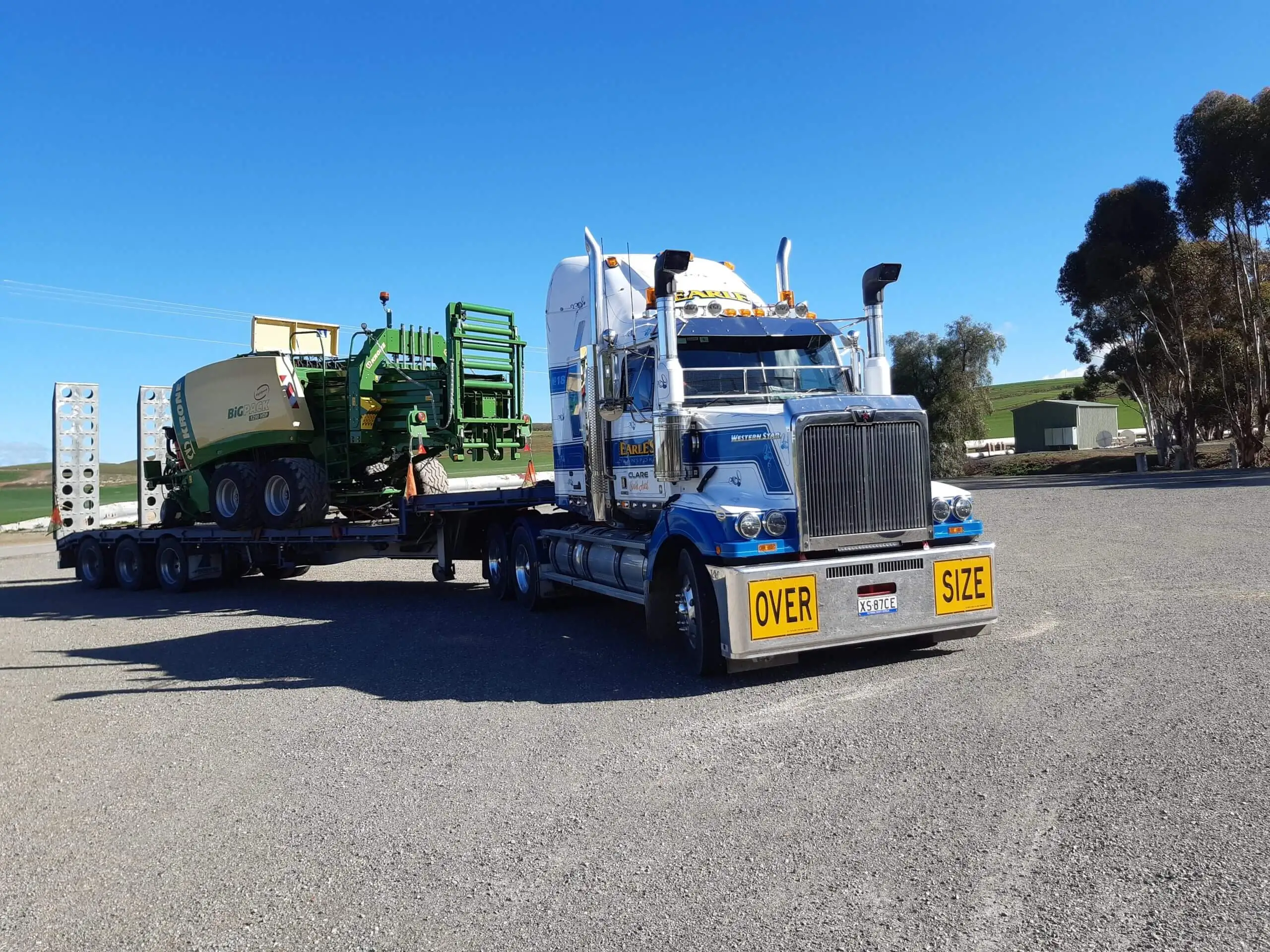 For a variety of sectors, Earle's Transport offers dependable, affordable heavy equipment transport services. We have mastered the art of providing on-time transport for agricultural machinery and equipment. We provide door-to-door delivery services throughout Adelaide. Agricultural hardware is included in our long history of moving heavy gear and equipment; we move a variety of agricultural equipment using a variety of carriers, including step-frame flats and low loaders.
Agricultural Machinery Shipping Load
In order to complete the delivery on time and securely, we use trusted route planning services, receive all necessary legal requirements from the authorities, and use escort vehicles that continuously communicate with the driver as needed.
Resources For Transporting Agricultural Machinery Available
Without cutting-edge transporters and the right technology, it is difficult to carry large agricultural machines. It is precisely determined how much work is required to safely transport such apparatus to its destination because even a minor error has the potential to cause harm or cause a traffic accident. That is why we delegated management of the entire process to experts.
Your agricultural machinery shipping can be easily managed by our adaptable team of professionals. With years of experience, they manage your equipment using modern transport technology.
Your Trusted Partner for Machinery Transport in Adelaide
Are you looking for reliable and efficient heavy equipment hauling services? Look no further! Earles Transport is here to meet all your farm machinery transport needs. With years of experience and a commitment to excellence, we are the leading provider of specialised transport solutions for the agricultural industry.
At our company, we understand the importance of the safe and timely transportation of your valuable farm machinery. Whether you need to move tractors, combines, harvesters, sprayers, or any other agricultural equipment, we have the expertise and resources to handle your requirements with the utmost care and professionalism.
Why choose our Transportation Services?
Expertise in Agricultural Transport: We specialise in heavy machinery transport, and our team has in-depth knowledge of the unique requirements of the agricultural industry. We understand the intricacies of handling large and heavy equipment, and our experienced drivers are skilled in ensuring safe loading, transportation, and unloading.
State-of-the-Art Equipment: We have a modern fleet of specialised trailers and vehicles designed specifically for transporting farm machinery. Our equipment is well-maintained and equipped with advanced technology to ensure secure and efficient transportation. We take pride in handling even the most challenging transport jobs with precision and care.
Comprehensive Coverage: Earles Transport provides transport services nationwide, catering to farms of all sizes. No matter where you are located or where your equipment needs to go, we can promptly deliver your machinery to its destination. We offer both local and long-distance transport options to suit your needs.
Safety First: The safety of your farm machinery is our top priority. We follow strict safety protocols and industry best practices to ensure that your equipment arrives in perfect condition. Our drivers are trained in secure loading techniques, and we utilise specialised tie-down systems and protective measures to safeguard your valuable assets during transit.
Customised Solutions: Every farm has unique transportation requirements, and we recognise the importance of tailored solutions. Whether you need a single piece of equipment transported or a complete fleet moved, we work closely to understand your needs and provide customised transport solutions that fit your budget and timeline.
Exceptional Customer Support: Our commitment to customer satisfaction is unwavering. Our friendly and knowledgeable customer support team is available to assist you at every step of the transportation process. From providing detailed quotes to tracking your shipment and addressing any concerns, we are dedicated to delivering exceptional service and ensuring your peace of mind.
Experience the Difference with Agricultural Machinery Transport!
Earles Transport is the trusted partner for farmers and agricultural businesses regarding farm machinery transport services. We combine industry expertise, cutting-edge equipment, and a customer-centric approach to provide seamless transport solutions that meet your requirements.
Contact us today to discuss your farm machinery transport needs and experience the difference. Let us take care of your transportation challenges, so you can focus on what you do best—growing your farm and nurturing your business—Trust Earles Transport for safe, reliable, and efficient farm machinery transport services.